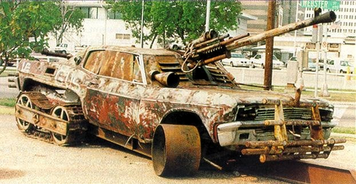 ´´Quemar y saquear´´
    --Conductor del Cazador
El Cazador es el apodo del blindado improvisado que utilizan los saqueadores Calaveras Negras como vehñiculo instignia. Es poco más que chatarra amontonada.
Descripción
Edit
Este rimbombante nombre corresponde a un tanque improvisado de los saqueadores de David Velero, los Calaveras Negras. Adornado con macabros estandartes de telas negras desgarradas y todo tipo de símbolos de guerra,  Cazador es la sombra chapucera de lo que pretendía ser un blindado de mando.
Fue improvisado usando tractores de campo e incontables placas de metal y acero rapiñadas y soldadas a los dos tractores que lo mueven formando una especie de barcaza sobre la que descansan torretas malformadas. El conjunto final es bastante sólido y de aspecto imponente. Se mueve gracias a la fuerza de los dos tractores que están en su interior. Su grueso blindaje a base de capas y capas de acero  puede hacer rebotar pequeños proyectiles convencionales, pero se muestra ineficaz contra armas antiblindaje. Su armamento principal consiste en troneras a las que se han adherido de modo azaroso escopetas de caza, armas rapiñadas e improvisados cañones caseros que lanzan bolas de acero a través de explosiones controladas pero muy poco fiables. Su tripulación es numerosa y va apiñada en el interior en condiciones poco adecuadas. En contra de lo que su nombre puede sugerir, Cazador resulta un arma lenta y torpe y no resulta nada difícil superar su velocidad incluso a pie. Lo único que se puede destacar de este tosco y chapucero tanque es su autonomía y su capacidad todoterreno gracias a los tractores que forman su impulso.
En definitiva, Cazador es un arma de extorsión y pavor pero solo capaz contra aterrorizados pueblerinos o bandas saqueadoras rivales ya que, pese a estar totalmente improvisado, es un arma de superioridad en combates entre bandas..
Ad blocker interference detected!
Wikia is a free-to-use site that makes money from advertising. We have a modified experience for viewers using ad blockers

Wikia is not accessible if you've made further modifications. Remove the custom ad blocker rule(s) and the page will load as expected.