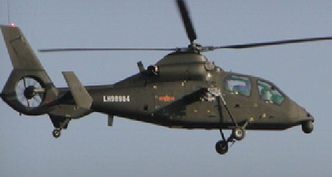 ´´Entrar y salir´´
--Piloto del Cosaco.
El helicóptero  ligero de Incursión HLI ED-35 es un vehículo aéreo ligero de un limitado uso civil y militar.
Descripción
Edit
El apodado Cosaco es un helicóptero ligero y barato utilizado habitualmente para vigilancia, reconocimientos o incursiones rápidas. El diseño fue militar en un principio, pero quedó descartado debido a que sus prestaciones en combate no se estimaron adecuadas en comparación a otros modelos previamente desarrollados, de modo que la serie HLI pasó a ser adquirida por magnates,  cargos militares  altos dirigentes y personal de empresas para su propia protección y transporte. Éstos apreciaban la sencillez de manejo del Cosaco, su escaso coste de mantemiento y vuelo y su reducido tamaño. Efectivamente, se trata de helicóptero pequeño y muy rápido, de perfil reducido. Sus poderosos motores impulsan su fuselaje ligero y aerodinámico dotándole de una velocidad y maniobrabilidad extraordinarias. El Cosaco estándar no tiene configuración de armamento y no es lo suficientemente grande y potente como para transportar activos pesados, pero puede incorporar un par de ametralladoras Swanson para defenderse testimonialmente y llevar a varios hombres en su interior para movilizaciones rápidas.

Dejando al margen su escasa capacidad de combate, el Cosaco es un helicóptero extraordinariamente útil.  Requiere muy poco queroseno para su movilización,  su producción, mantenimiento y reparación son muy baratas y además son helicópteros estables y fáciles de manejar de modo que no necesitan de personal muy especializado. Muchos de los refugios nucleares del gobierno, incluido el Libertad Uno, fueron equipados con helicópteros Cosaco para su vigilancia y evacuación en caso de necesidad.
Ad blocker interference detected!
Wikia is a free-to-use site that makes money from advertising. We have a modified experience for viewers using ad blockers

Wikia is not accessible if you've made further modifications. Remove the custom ad blocker rule(s) and the page will load as expected.