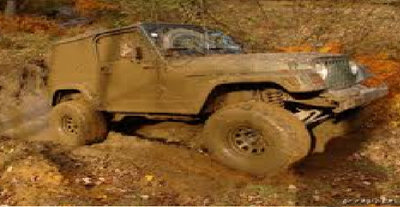 ´´Podemos arreglar este coche para que vuelva a funcionar´´
                  --Julián Duque
Los jeeps AJ Edwards son fiables y resistentes vehículos que han sobrevivido al apocalipsis. Su suo es muy extendido y van desde simples vehículos civiles hasta militares.
Descripción
Construidos por la empresa Edwards Motors and Self Propelled Vehicles los jeeps todoterreno AJ han conseguido una popularidad enorme en los últimos tiempos. De hecho, hasta su aniquilación completa en el Apocalipsis, Edwards era la empresa líder en el sector gracias a los AJ e incluso tras el fin del mundo un número enorme de estos vehículos sigue en activo.
Los jeeps son vehículos todoterreno con tracción a las cuatro ruedas caracterizados por su robusta estructura y sus múltiples aplicaciones modulares. Pueden funcionar largos períodos de tiempo en condiciones adversas sin necesidad de mantenimiento debido a que Edwards tenía contratas con gran parte de los ejércitos de las Naciones, que requerían de esta resistencia y fiabilidad, también aplicada a los campos civiles. Cuando el mundo aún merecía tal nombre, los AJ estaban muy de moda entre las clases pudientes llegando a acumular una sola familia varios de estos modelos como símbolo de bienestar económico. El abanico de diseños y variables del AJ son incalculables. Los hay con asientos, con remolque, con capota, sin ella…Aunque en un principio Edwards los comercializó, poco a poco los militares fueron monopolizando la contrata.
Los AJ Edwards suministrados al ejército suelen llevar capota abatible y una ametralladora Swanson sobre una plataforma giratoria.
Ad blocker interference detected!
Wikia is a free-to-use site that makes money from advertising. We have a modified experience for viewers using ad blockers

Wikia is not accessible if you've made further modifications. Remove the custom ad blocker rule(s) and the page will load as expected.