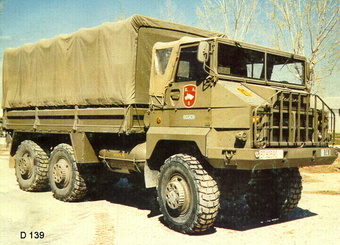 ´´Convoy Behemoth, recibido´´
                  --Clydesdale del Convoy.
Los Edwards Clydesdale son los camiones más utilizados por las compañias militares, como la Primera Independiente. Sirven tanto para transporte de personal como de material.
Descripción
Ante el éxito del Jeep AJ de Edwards los militares no tardaron en confiar a la empresa la producción de la mayor parte de sus vehículos de transporte y apoyo. La empresa se dedicó a conciencia para satisfacer a sus maravillosos nuevos clientes y el fruto de esta intensa investigación fue el Clydesdale Edwards, un camión de soporte robusto, fiable y extraordinariamente versátil que los militares han asignado a mil y un usos diferentes.

El Clydesdale compone la mayor parte de los convoyes de los ejércitos para transportar tanto infantería como suministros, municiones...Pese a lo que en un principio puede parecer, se trata de un vehículo rápido y ágil capaz de mantenerse sin problemas a la altura de los vehículos militares más veloces. La resistencia y la tenacidad del Clydesdale le han llevado incluso a ser utilizado en el fragor de la batalla bajo fuego enemigo para el transporte de personal o suministros, e incluso como barricada móvil, aunque no sea la función para la que fue diseñado. 
Ad blocker interference detected!
Wikia is a free-to-use site that makes money from advertising. We have a modified experience for viewers using ad blockers

Wikia is not accessible if you've made further modifications. Remove the custom ad blocker rule(s) and the page will load as expected.