´´Un joven emprendedor. se atreve —a tan temprana edad—
a preguntarnos y provocarnos sobre 
el mundo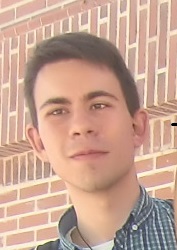 que estamos construyendo
´´
--Revista Hágase Estar.
Edgar Jiménez García es el autor de Celestia Daya
Biografía
Edgar Jiménez García nació en Madrid en 1994 y reside acutalmente en Móstoles.
Tras culminar el Bachillerato de Ciencias Sociales en el IES Rayuela estudia Doble Grado de Derecho y Ciencias Políticas en la Universidad Complutense de Madrid y es miembro de la Escuela de Liderazgo Universitario de la Universidad Francisco de Vitoria. Compagina sus estudios con actividades de ayuda social en distintos ámbitos, especialmente el Comedor Social San Simón de Rojas.
Es un joven muy dinámico y versátil que se ha involucrado en multitud de proyectos y organizaciones de diversa naturaleza.  Siempre se ha mostrado muy aficionado al a lectura y a la escritura pero también al teatro amateur donde actuó en diversas ocasiones como actor, guionista e incluso director.
Comenzó a escribir con catorce años y a los quince ya completó su primer libro. Aunque posee cinco patentes, Celestia Daya es su primera publicación, no obstante ha escrito diversos artículos sobre moral, política, filosofía, sociología...para distintas revistas siendo éstos algunos de los temas que especialmente suscitan su interés.
Ad blocker interference detected!
Wikia is a free-to-use site that makes money from advertising. We have a modified experience for viewers using ad blockers

Wikia is not accessible if you've made further modifications. Remove the custom ad blocker rule(s) and the page will load as expected.