´´Cuando el cielo arda y el Infierno se cierna sobre tí, demostrarás quién eres´´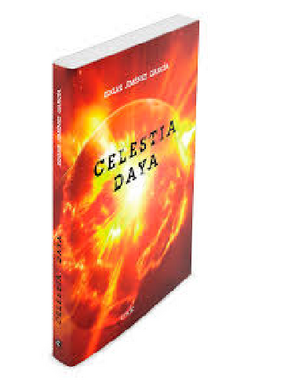 --Edgar Jiménez
Publicada en 2013, Celestia Daya es la primera obra de Edgar Jiménez.
Sinopsis
Es el año 2023 y el mundo se tambalea al borde del desastre. Los conflictos diplomáticos, la escasez de recursos, las insoportables crisis económicas, la corrupción y el excesivo poder de las empresas de energía han creado un clima de tensión que amenaza con estallar en cualquier momento. El agotamiento de las magras reservas de crudo mundiales terminan por provocar un conflicto que no tarda en desembocar en una auténtica guerra apocalíptica por la posesión de los escasos recursos restantes, dejando el mundo convertido en un yermo nuclear arrasado por la guerra y devastado por las enfermedades.
Julián Duque, ex ingeniero industrial, se embarca en una desesperada cruzada con el único objetivo de encontrar y salvar a su familia en el infierno que ahora es el mundo, donde las mayores miserias humanas se manifiestan en toda su gloria y crudeza. Duque se verá, no obstante, involucrado en una siniestra trama y en una serie de intrigas y luchas tejidas alrededor de una misteriosa súper arma militar previa al apocalipsis cuya posesión se discuten varias potencias supervivientes y a la que el ingeniero parece estar estrechamente ligado.
Enlace editorial
Ad blocker interference detected!
Wikia is a free-to-use site that makes money from advertising. We have a modified experience for viewers using ad blockers

Wikia is not accessible if you've made further modifications. Remove the custom ad blocker rule(s) and the page will load as expected.