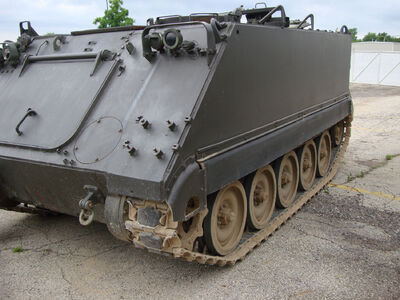 ´´Como una tormenta de plomo´´
                 --Piloto de Hydra
El TOA-ORG Hydra es un transporte de tropas a disposición de la fuerza paramiltar de Laeraye, los Cerberos, que lo usan para movilizarse rápidamente en el frente.
Descripción
 Debido a los problemas de movilidad de los Cerberos, las Hydra se diseñaron para transportarlos rápidamente a las zonas de fuego intenso. Son vehículos modelo TOA (Transporte Oruga Acorazado) capaces de moverse por casi cualquier terreno y dotados con palas excavadoras para apartar obstáculos. Incorporan compartimentos amplios y blindados para movilizar tropas en su interior y el blindaje es bastante grueso sin perjudicar su velocidad. Llevan tres ametralladoras operadas por tres hombres, más un piloto encargado de conducirlo. Las Hydra son vehículos desarrollados por Laeraye y no tienen comparación con unidades de origen militar, de modo que están diseñadas en masa para ser medios baratos y eficaces para combatir. Muchos Hydras se consideran activos prescindibles y no se tienen demasiada consideración por ellos, pudiendo ser sacrificados para mantener lejos a los enemigos.
Son excelentes supresores contra unidades no blindadas gracias a sus ametralladoras, pero tienen pocas posibilidades contra el blindaje pesado.
Ad blocker interference detected!
Wikia is a free-to-use site that makes money from advertising. We have a modified experience for viewers using ad blockers

Wikia is not accessible if you've made further modifications. Remove the custom ad blocker rule(s) and the page will load as expected.