´´Han perdido su cordura. Ya no son seres humanos, son bestias...son monstruos´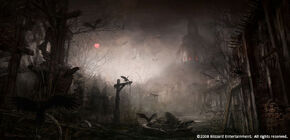 --Julián Duque.
Los pueblos perdidos son una sección de pueblos cuyas características les han llevado a ser considerados como áreas de peligro extremo.
Caraterísticas
No todos los seres humanos están bendecidos con el don de la cordura, máxime cuando el mundo entero es un caos infernal. Los Pueblos Perdidos son aquellos cuyos habitantes, sea por el motivo que fuere, han sucumbido a la desesperación más absoluta o que, sencillamente, han muerto.
Algunos Pueblos Perdidos son simples ruinas llenas de cadáveres rapiñados por animales azotados de radiación y malformaciones mientras otros están habitados por personas que han enloquecido de alguna manera: adoradores sectarios de macabros cultos recién surgidos, sanguinarios caníbales que no dudan en devorar a los de su misma raza, personas que, directamente, creen estar en el Infierno….
Los Pueblos Perdidos son sombras en el mundo. Nadie se atreve a acercarse a ellos, con razón, debido a que es imposible saber qué puede acechar entre las ruinas. Se han ido forjando fama de malditos y esa leyenda negra mantiene a los visitantes alejados para evitar los males que puedan surgir de ellos, que no son pocos.
La solución contra estos pueblos es discutida. Los más idealistas piensan que deben intentar ayudarles y devolverles la cordura o el esplendor pasado, la inmensa mayoría prefiere evitar todo tipo de contacto con ellos y un grupo más realista y radical opina que la solución pasa por exterminarlos a todos.
Aunque no conforman un grupo oficial, se sabe que algunos pueblos perdidos han tomado el control de instalaciones militares y fuentes de recursos importantes, aunque no se hallen en condiciones de usarlos.
Ad blocker interference detected!
Wikia is a free-to-use site that makes money from advertising. We have a modified experience for viewers using ad blockers

Wikia is not accessible if you've made further modifications. Remove the custom ad blocker rule(s) and the page will load as expected.